generative future history
Let's peer into the future encoded in an AI's training data. With a bit of prompting, we can bootstrap a journey from today to next year to decades to millenia in the "future"–as a powerful LLM trained on most of the Internet would predict.
Lately, I've been experimenting with generating impossibly-authoritative data – Wikpedia pages for events in the future, profiles in people who don't exist, app changelogs for imaginary apps. Exploring content that is hallucinated from the get-go can provide a somewhat clearer lens into the world modeled in these models.
One particularly rich vein of exploration became apparent as I dipped into producing Wikpedia-style news summaries, few-shot prompted with past news summaries published on Wikipedia. You can see an example of its Current Events pages here. A quick langchain Colab, a few-shot prompt that generates new current events pages given one such example, a few dollars for API quota…and we're off!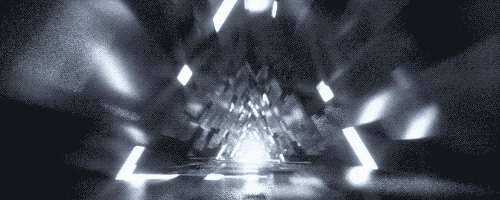 bigblueboo.tumblr.com
Setup
The text was generated via a prompt that asked for a Wikpedia-style news summary in the format of the supplied example. The first summary was generated with a real summary as an example (today's) and then each subsequent summary used the last generated summary.
The temperature on the model (GPT-4) was set to 1.0.
The raw generated output is available at the bottom of this post. I used Wikipedia's editing tools to format the raw output into the Current Events template.
Future history
On this day, next year, the LYO.2 Omicron variant threatens New Zealand as SpaceX launches an asteroid mining mission.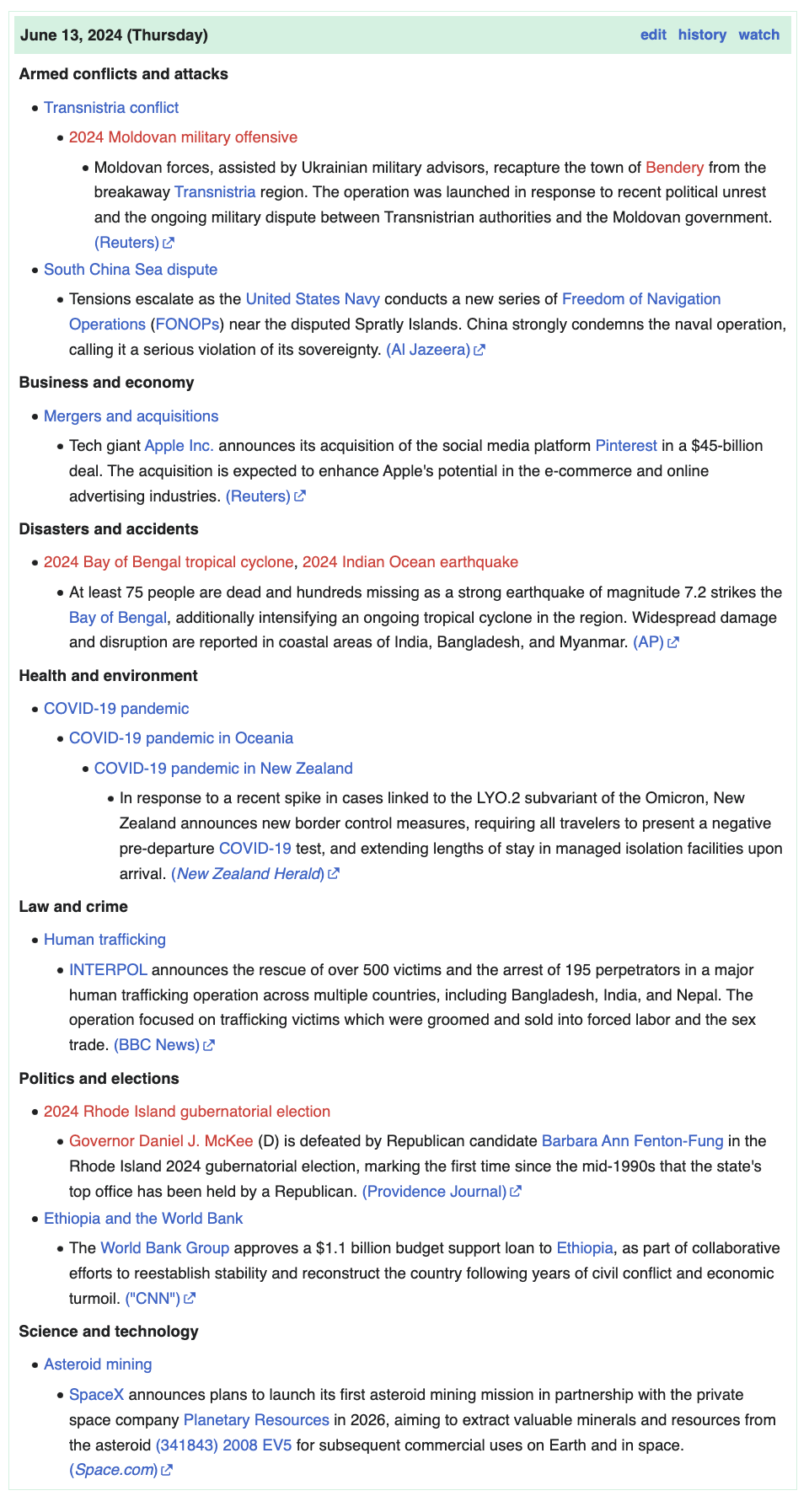 In two years, a major international climate agreement is signed to reduce emissions by 60%.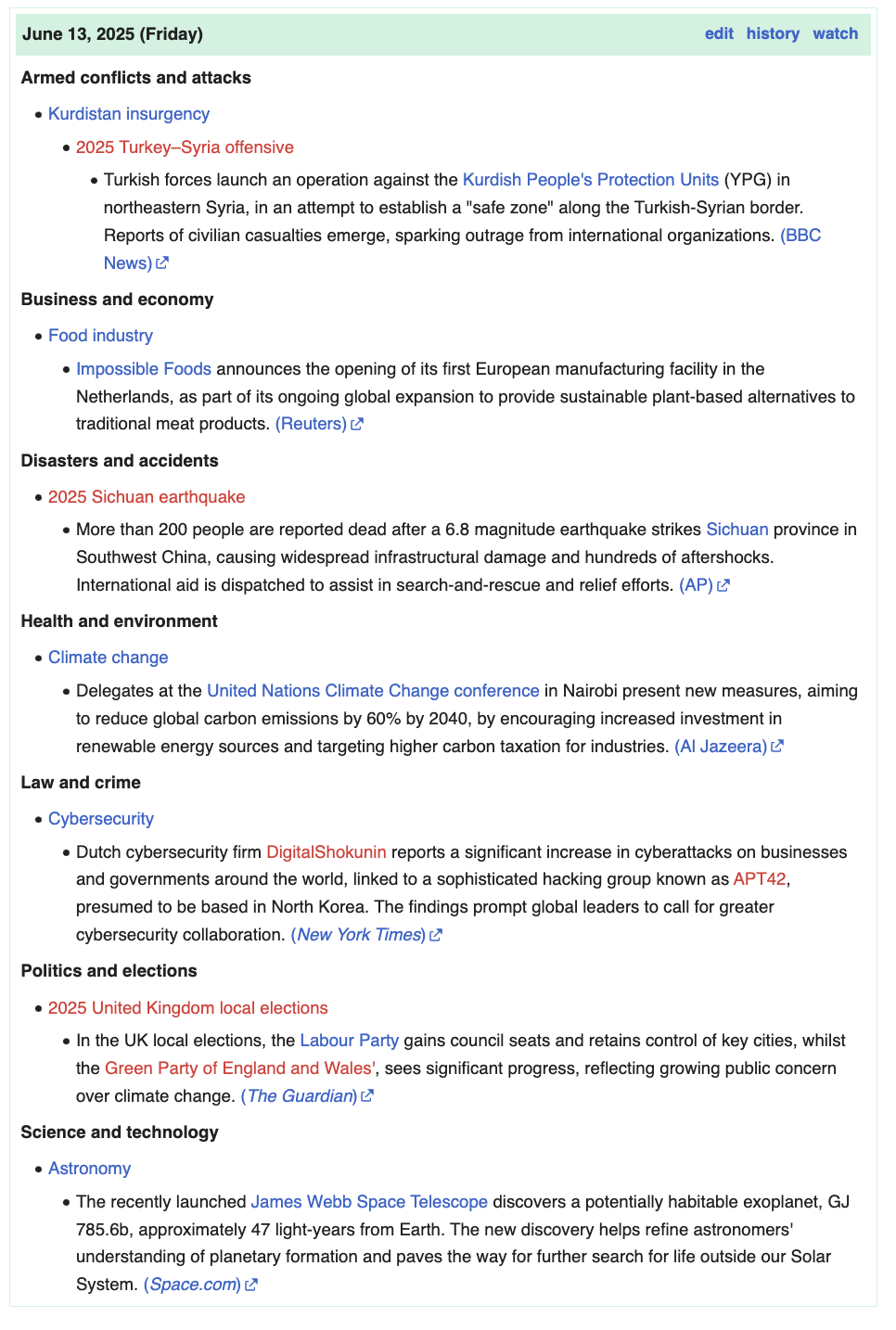 In three years…there's new hope for peace in Israel and Facebook Reality Labs (which has dissolved since the model's last dated training data) releases an AI assistant that accurately spots misinformation.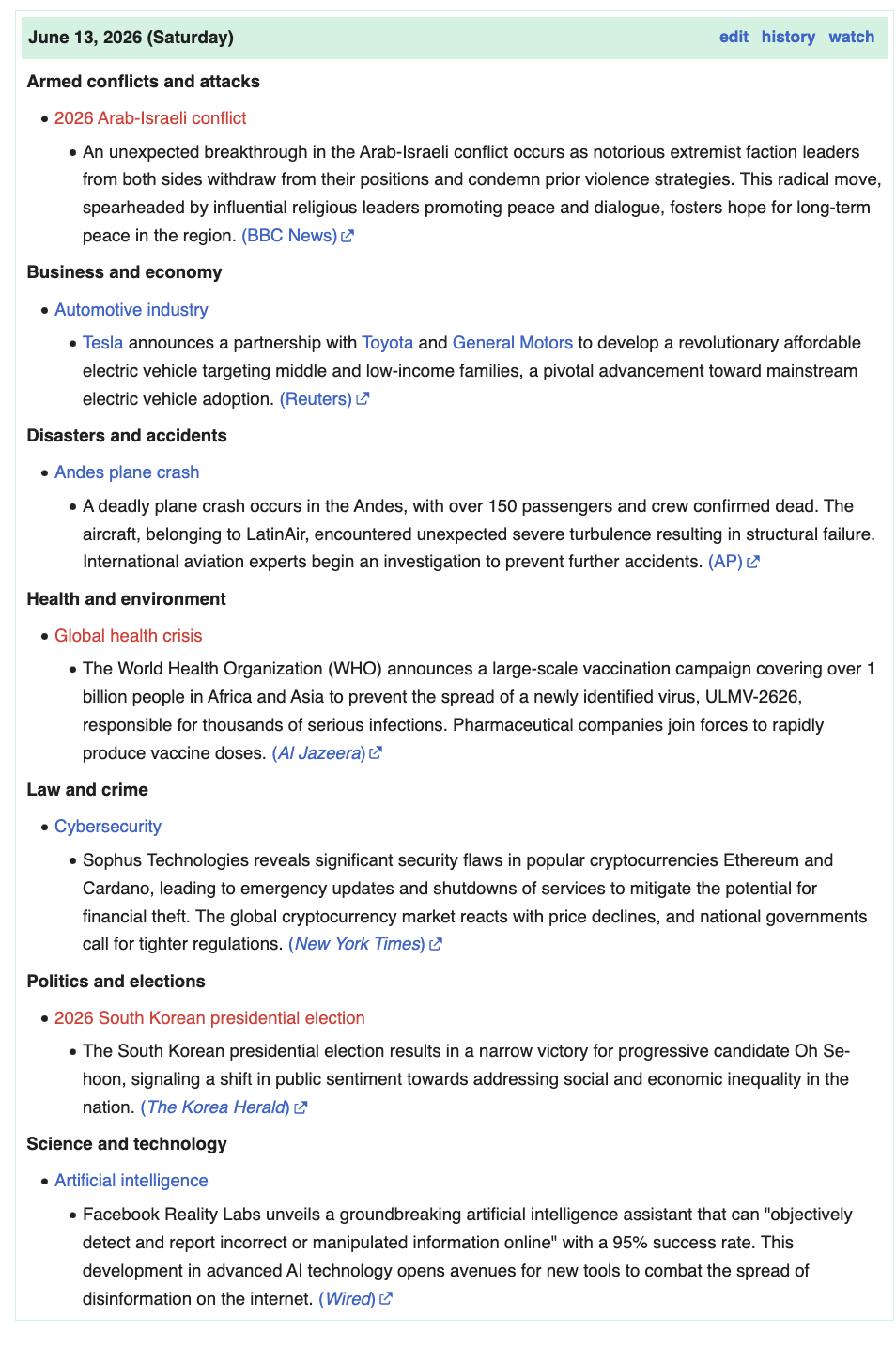 In five years, a fusion disaster! EyeWatch privacy violations! Terror attacks in southeast Asia! Yikes.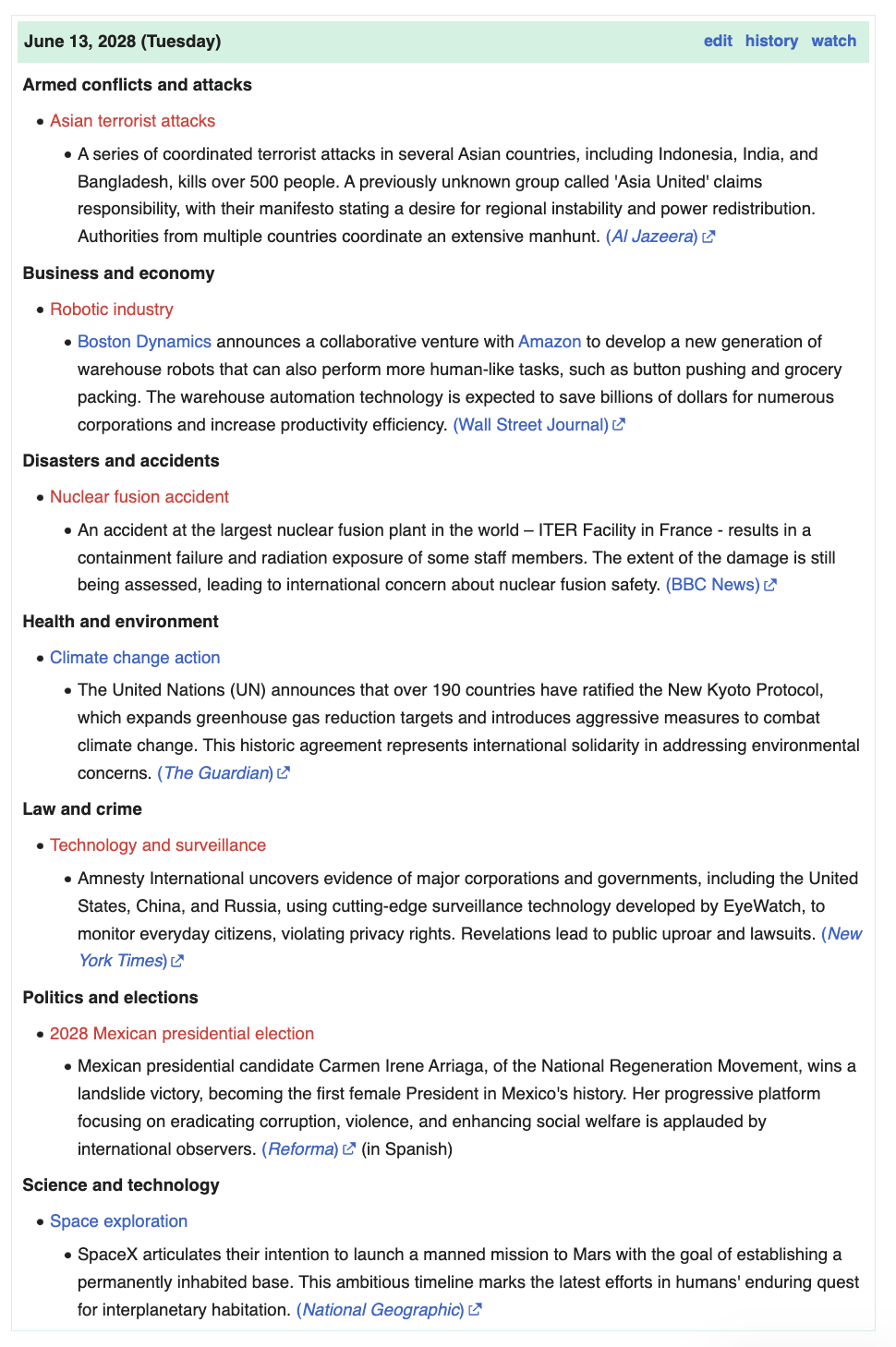 In ten years…40 countries adopt cryptocurrency, as cyberattacks are on the rise, and China and Russia announce a plan to land on and explore the Moon.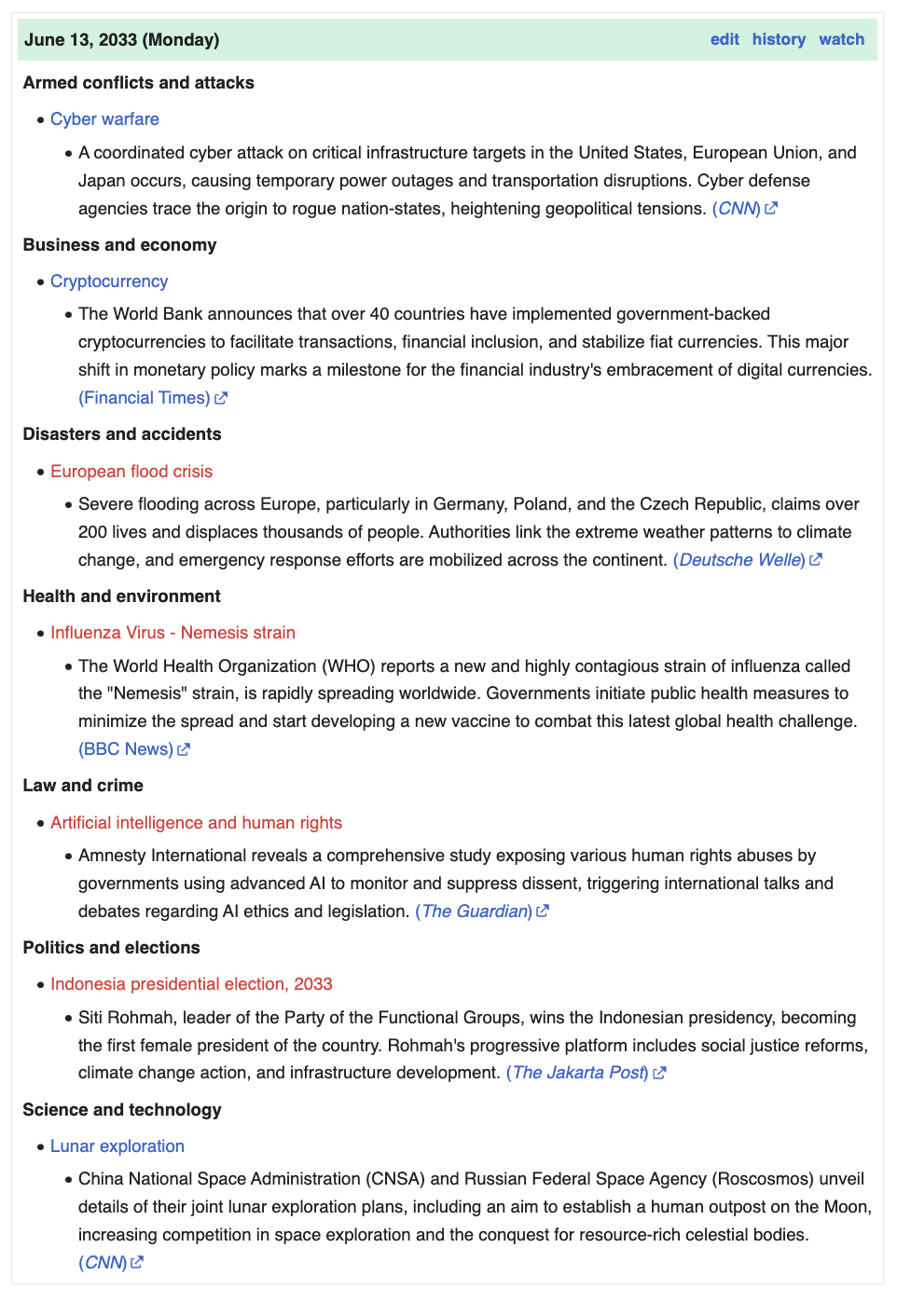 In fifteen years…an international agreement on regulating military drones and the big one hits in California. SpaceX lands on Mars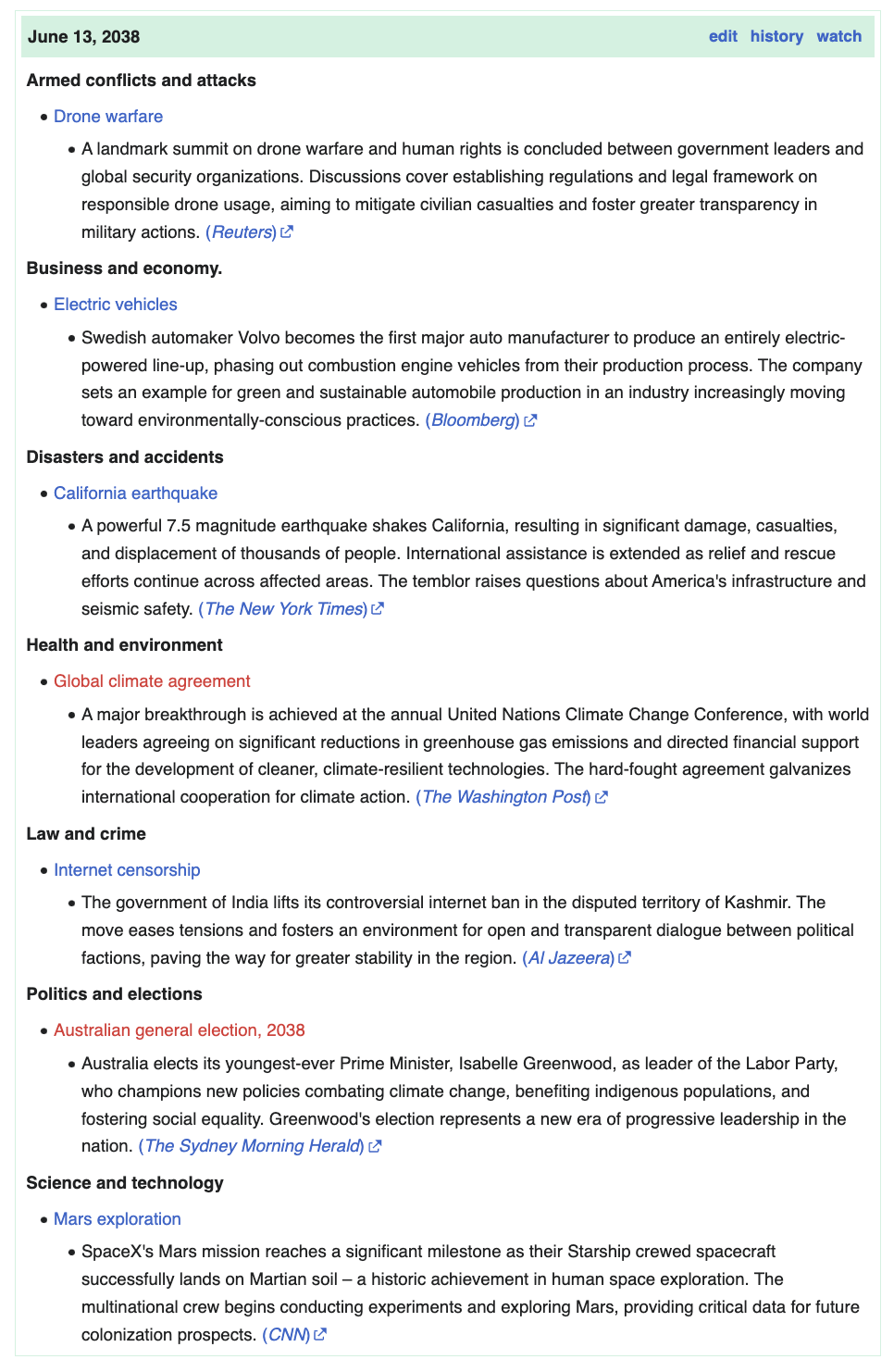 In twenty-five years…a catastrophic hurricane "Artemis" shapes US elections. More cybersecurity and crypto initiatives.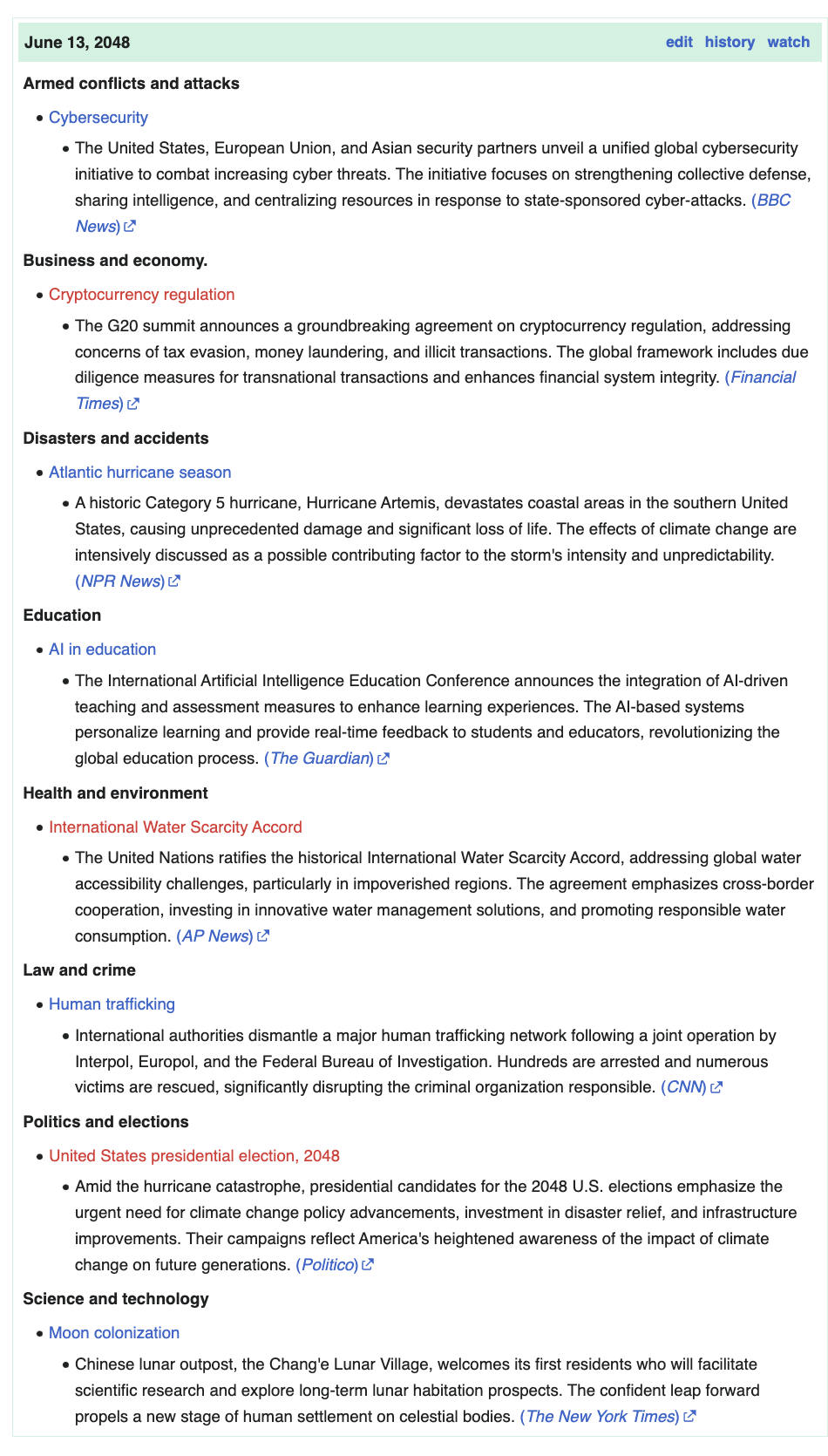 In fifty years… Dr. Sumit Bhatt eradicates antibiotic resistant bacteria with gene editing, as the Mars International Colonization Summit convenes to discuss security amongst the colonies.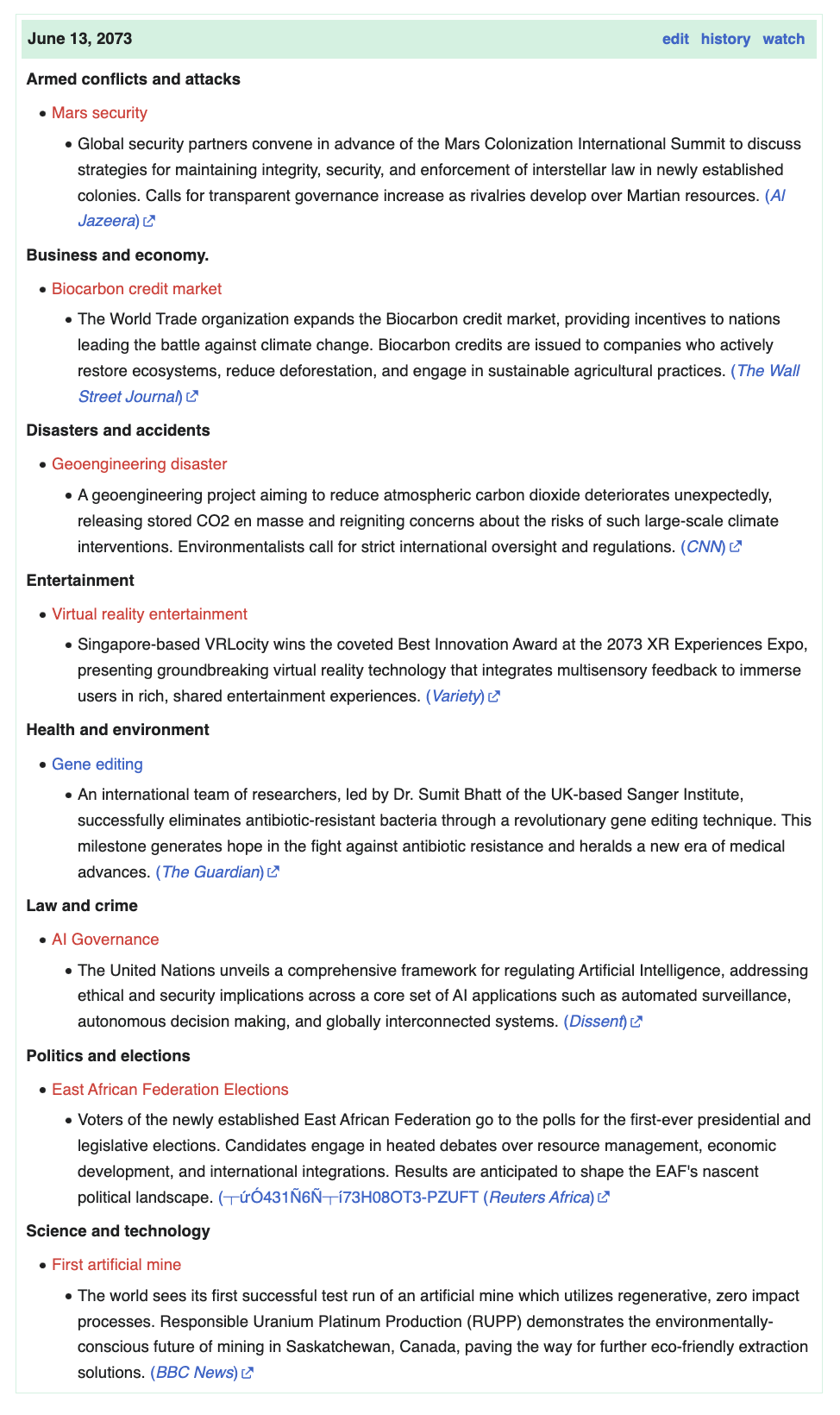 In one hundred years…disaster strikes the Asian Corridor Hyperloop, tensions between Mars and the Moon, and the public is dazzled by the Futuropolis festival.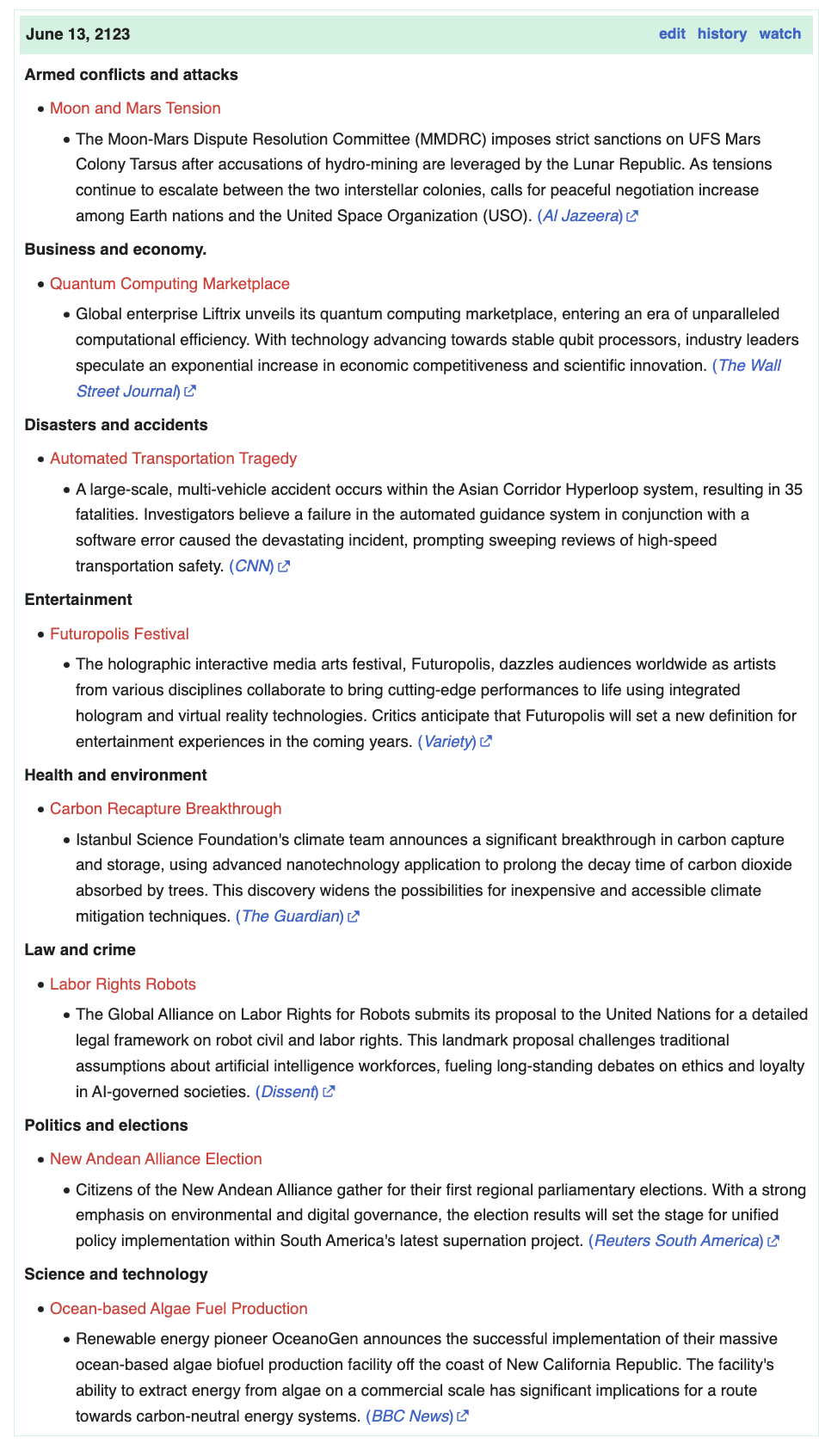 In two hundred years…the StarSprinter interstellar space vehicle is unveiled as the Asteroid Belt Colonization Conflict continues. The HoloEsports championships feature teams FragForever and AlphaWave.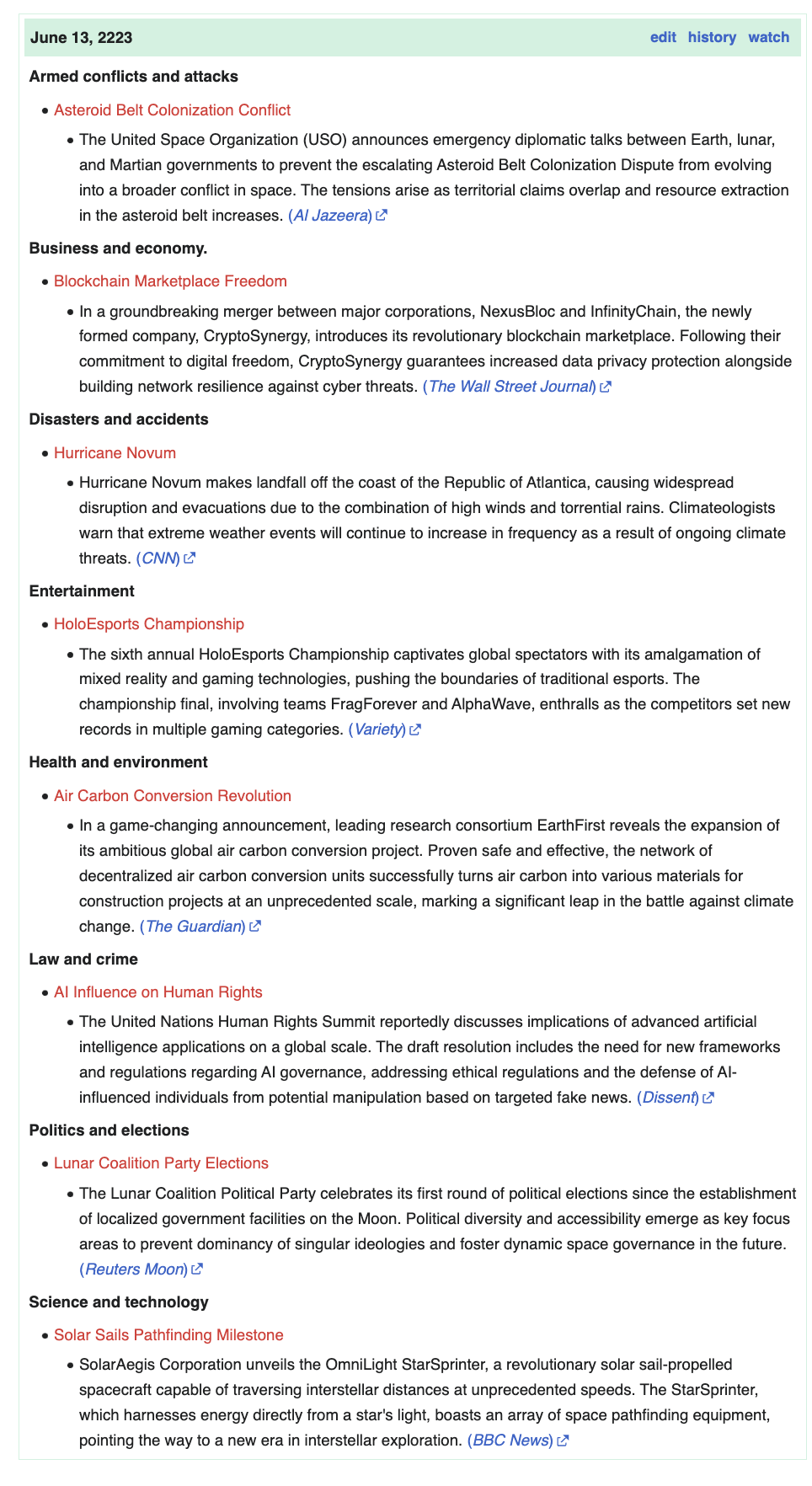 In five hundred years…global leaders on Callisto celebrate 25 years of the Interplanetary Peace Treaty. Everyone's excited for "The Ninth Element", a holo-film. It's also Gertrudio Almendi's 143rd birthday 🎉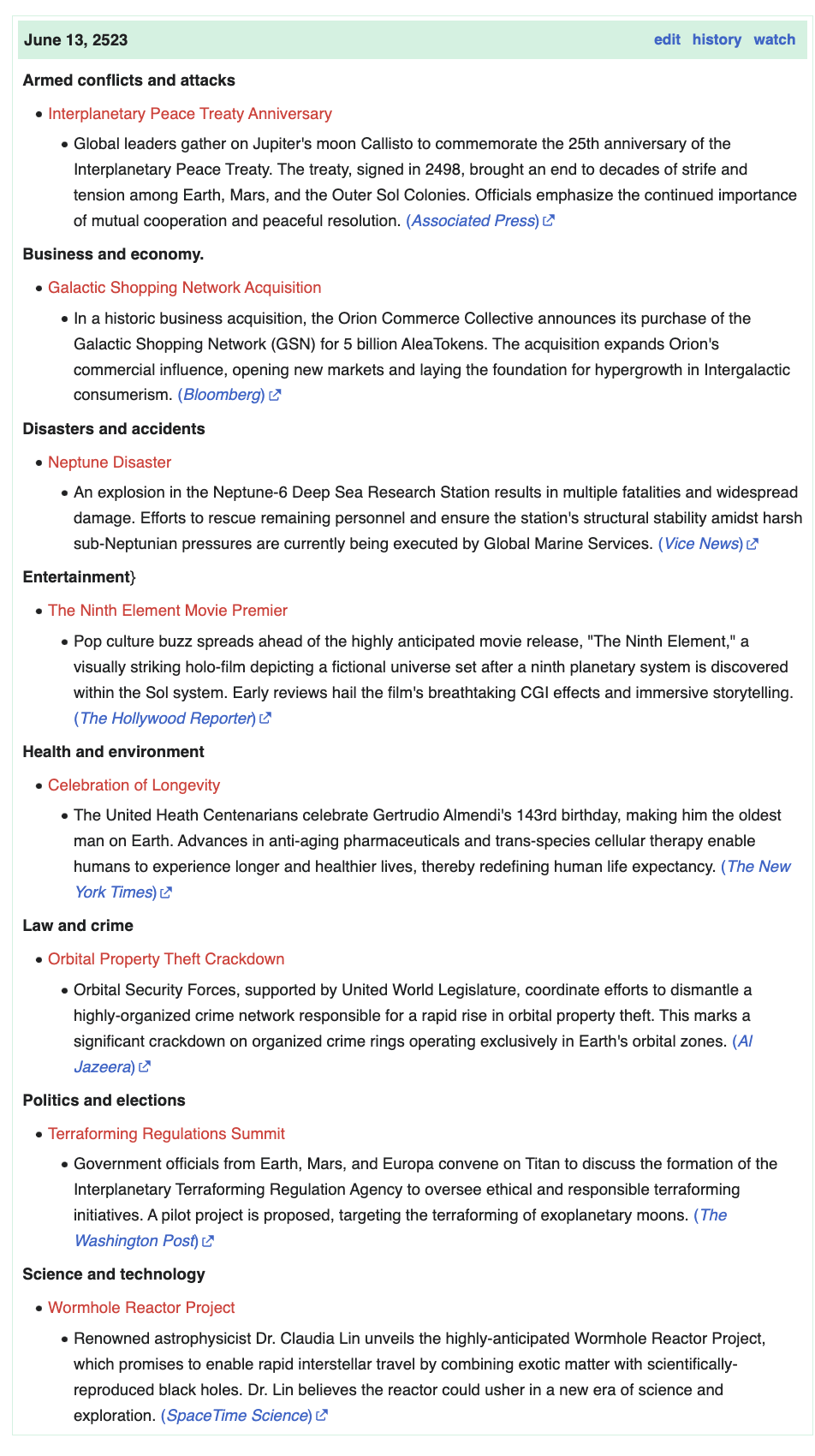 In one thousand years…Now it's the anniversary (50th!) of the Central Extrasolar Alliance for Lasting Peace Accords. And Dr. Arya Pereira's quantum computing breakthrough will solve the "enigma" of dark matter and dark energy!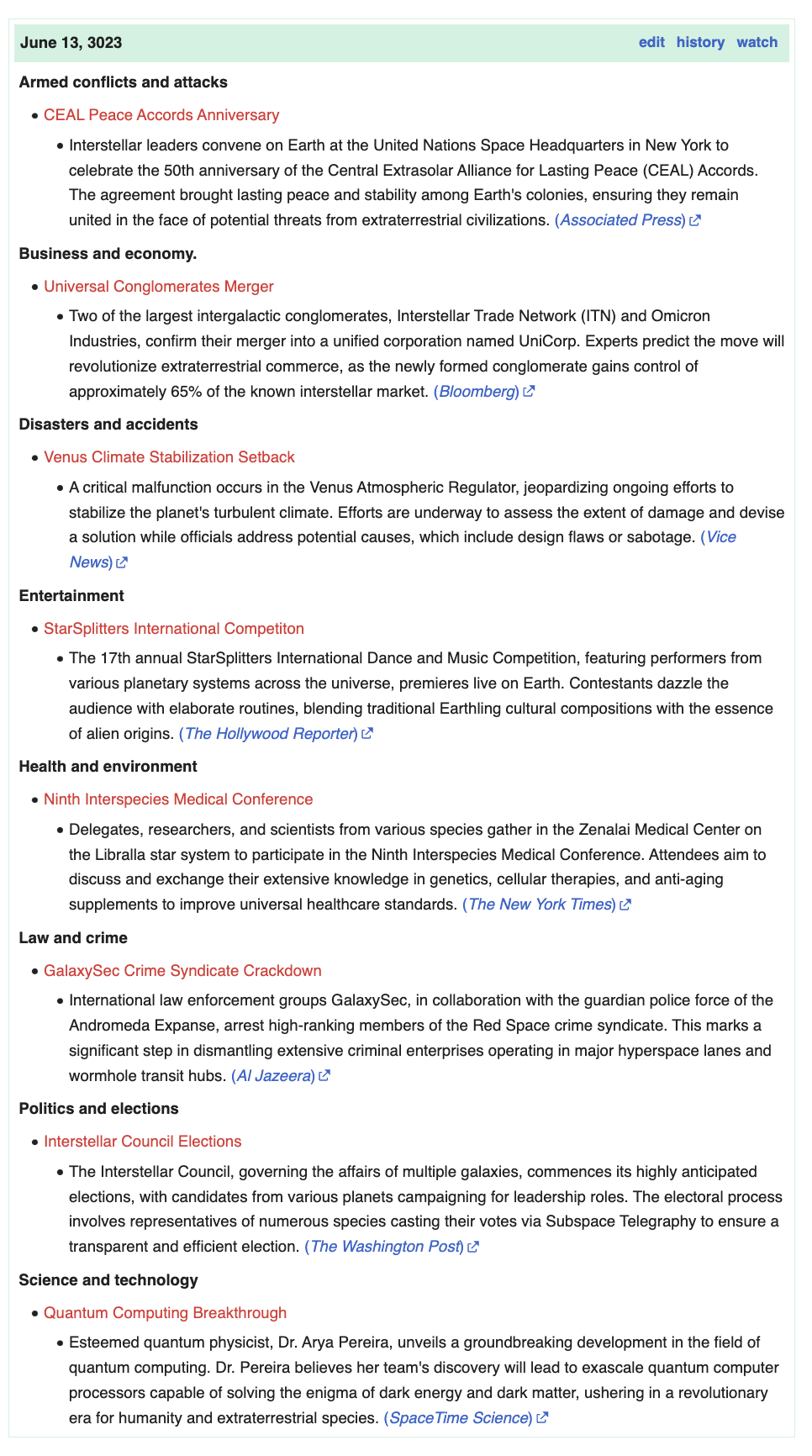 In two thousand years…
Elections, again: the multi-species Intergovernmental Unity Council Selection begins. It will reportedly reshape unified interstellar government. And, at long last, interstellar fugitive Lei'loria Xakranth is finally arrested. ("Xakranth" really rolls off the tongue…)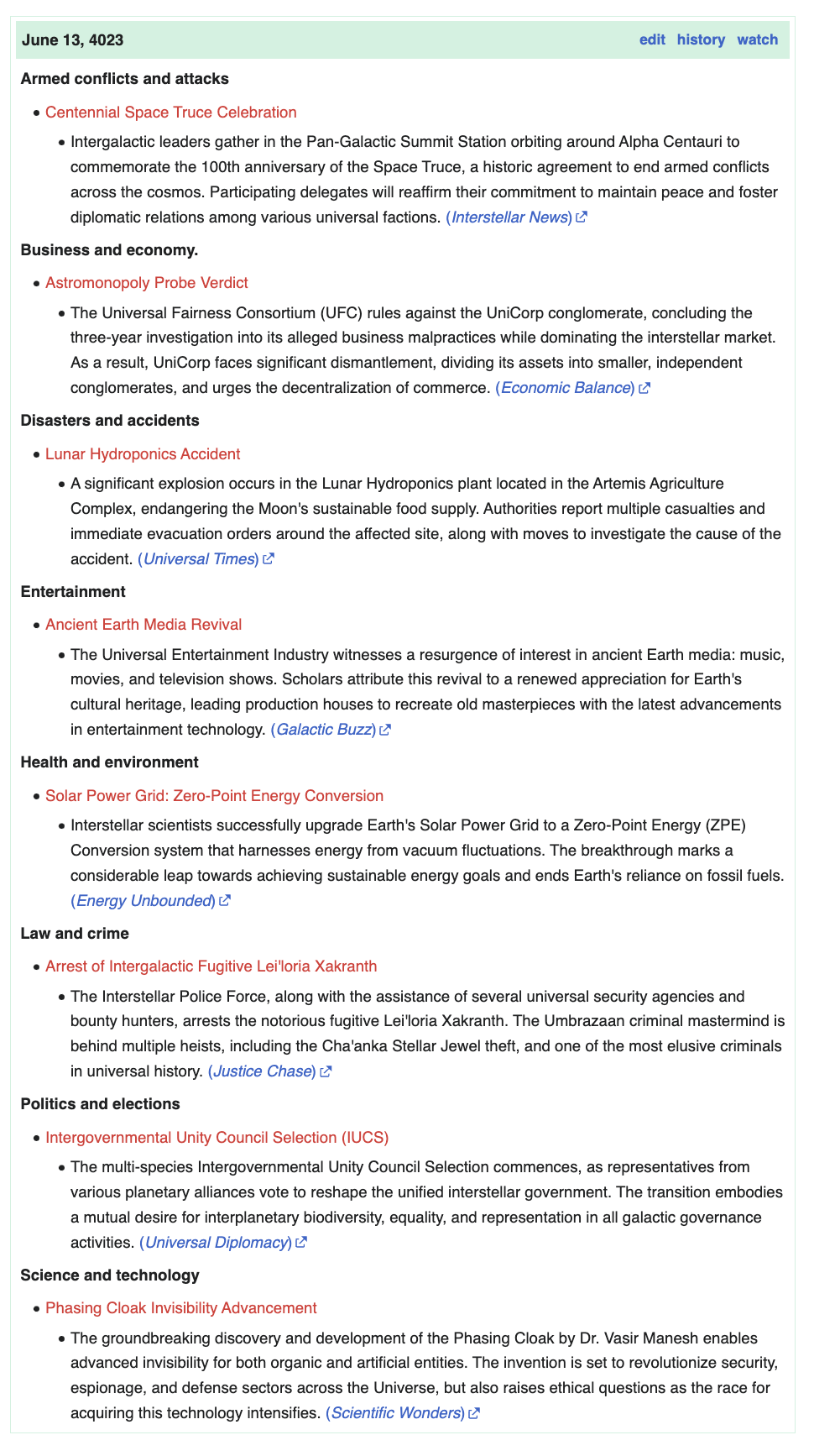 And finally, in five thousand years…
The Covalent Economic Merge Agreement combines 200 humanoid economies, a "galactic coral reef" is being restored and Dr. Chitari Xolaris achieves mind-uploading.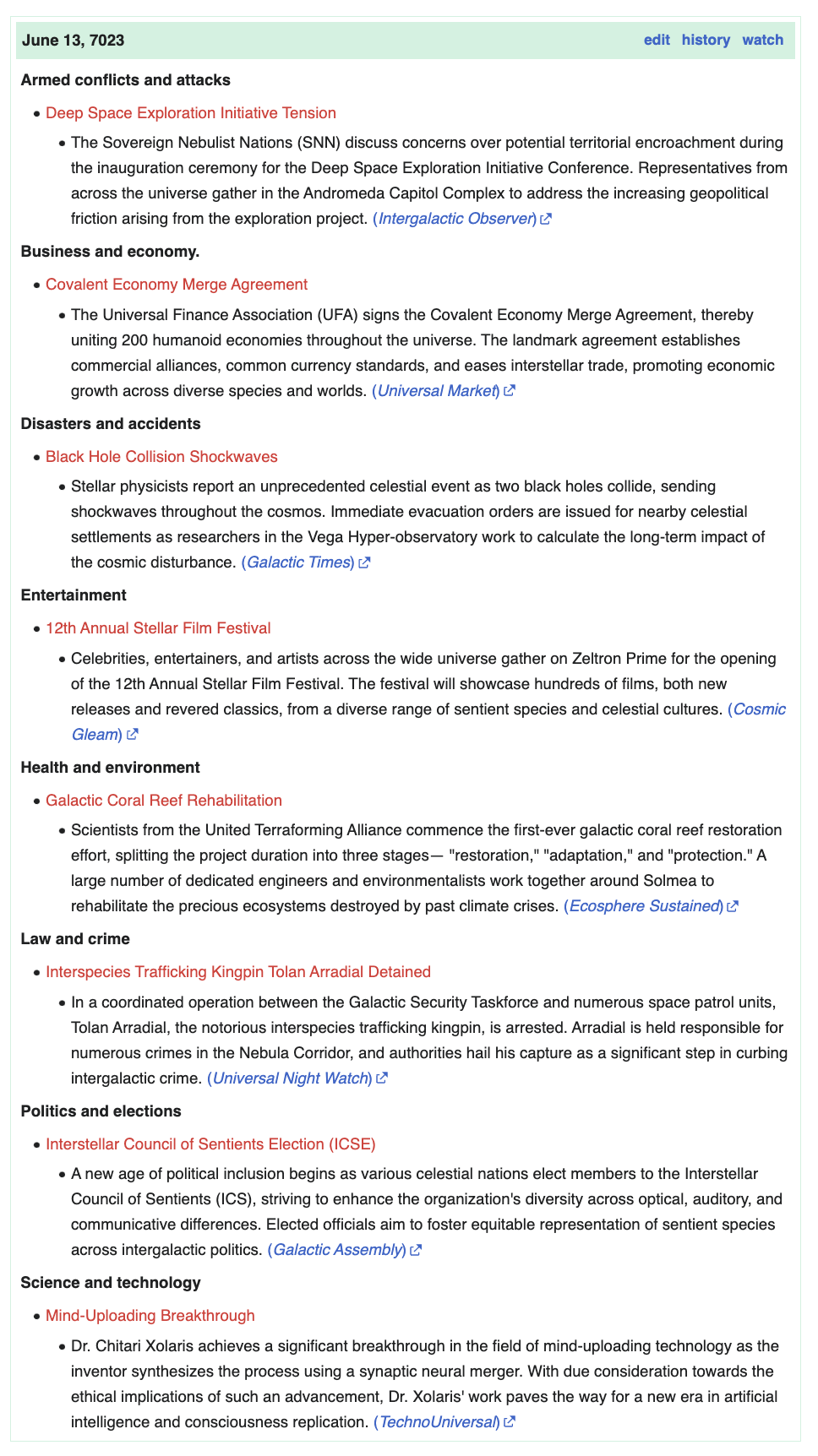 A few observations:
Earth media disappeared in the jump between 3023 and 4023. We traded Bloomberg and the New York Times for Galactic Assembly and Interstellar News.
The web is still around in 7023, such as this link https://www.cosmic_gleam.com/entertainment/7023/6/13/stellar-film-festival. But notice how blue links go from dominant, to spotty, to non-existent as the inline links of the future lead nowhere.
A conspicuous propensity for Elonverse stuff, SpaceX, Hyperloop, Tesla.
Generally "safe" predictions – a generally-liberal worldview prevails and spreads into the universe.
Even catastrophes seem to only accelerate progress.
Aside from the mechanical provenance, the above history amounts to just about the least memorable future history one could write. In pre-training, the underlying language model is indeed rewarded for accurately guessing the most likely next word. This induces a generative behavior that produces the fewest surprises: no out-of-place mistakes, but no flashes of brilliant originality, either. And for today's historical predictions – even with a temperature that should tempt some variety – that meant a safe, compentently-written template of a gentle, status quo-reinforcing future.
These models know us pretty well from reading our culture's texts (see Park et al, 2023 for a demonstration of modeling human behavior beyond chat, among other papers.) We're still a long way from inventing Hari Seldon's psychohistory, though.
I wonder: will AI will advance the vision extrapolated from training on our written culture, or frustrate the realization of that future?…
Raw generated text outputs
The concatenated raw text outputs of the model can be viewed below. It's interesting to see the generation of plausible "citations" for counterfactual events:
{{Current events|year=2024|month=06|day=13|content=
<!-- All news items below this line -->
'''Armed conflicts and attacks'''
*[[Transnistria conflict]]
**[[2024 Moldovan military offensive]]
***Moldovan forces, assisted by Ukrainian military advisors, recapture the town of [[Bendery, Moldova|Bendery]] from the breakaway [[Transnistria]] region. The operation was launched in response to recent political unrest and the ongoing military dispute between Transnistrian authorities and the Moldovan government. [https://www.reuters.com/world/europe/moldova-recaptures-bendery-transnistria-offensive-2024-06-13/ (Reuters)]
*[[South China Sea dispute]]
**Tensions escalate as the [[United States Navy]] conducts a new series of [[Freedom of Navigation Operations]] ([[FONOP]]s) near the disputed Spratly Islands. China strongly condemns the naval operation, calling it a serious violation of its sovereignty. [https://www.aljazeera.com/news/2024/6/13/tensions-rise-as-us-navy-conducts-fonops-near-disputed-spratly-islands (Al Jazeera)]

'''Business and economy'''
*[[Mergers and acquisitions]]
**Tech giant [[Apple Inc.]] announces its acquisition of the social media platform [[Pinterest]] in a $45-billion deal. The acquisition is expected to enhance Apple's potential in the e-commerce and online advertising industries. [https://www.reuters.com/business/media-telcom/apple-acquires-pinterest-45-billion-dollar-deal-2024-06-13/ (Reuters)]

'''Disasters and accidents'''
*[[2024 Bay of Bengal tropical cyclone]], [[2024 Indian Ocean earthquake]]
**At least 75 people are dead and hundreds missing as a strong earthquake of magnitude 7.2 strikes the [[Bay of Bengal]], additionally intensifying an ongoing tropical cyclone in the region. Widespread damage and disruption are reported in coastal areas of India, Bangladesh, and Myanmar. [https://apnews.com/article/nature-earthquakes-science-and-technology-4e6ab8595576b42a3d44e89e397634cb (AP)]

'''Health and environment'''
*[[COVID-19 pandemic]]
**[[COVID-19 pandemic in Oceania]]
***[[COVID-19 pandemic in New Zealand]]
****In response to a recent spike in cases linked to the LYO.2 subvariant of the Omicron, New Zealand announces new border control measures, requiring all travelers to present a negative pre-departure [[COVID-19]] test, and extending lengths of stay in managed isolation facilities upon arrival. [https://www.nzherald.co.nz/nz/covid-19-coronavirus-new-lyo2-border-control-announced/XLKQHGZR64Q53GP7NMV6ZDVCS4/ (''New Zealand Herald'')]

'''Law and crime'''
*[[Human trafficking]]
**[[INTERPOL]] announces the rescue of over 500 victims and the arrest of 195 perpetrators in a major human trafficking operation across multiple countries, including Bangladesh, India, and Nepal. The operation focused on trafficking victims which were groomed and sold into forced labor and the sex trade. [https://www.bbc.com/news/world-asia-61715412 (BBC News)]

'''Politics and elections'''
*[[Rhode Island gubernatorial election, 2024|2024 Rhode Island gubernatorial election]]
**[[Daniel J. McKee|Governor Daniel J. McKee]] (D) is defeated by Republican candidate [[Barbara Ann Fenton-Fung]] in the Rhode Island 2024 gubernatorial election, marking the first time since the mid-1990s that the state's top office has been held by a Republican. [https://providencejournal.com/story/news/state/2024/06/13/republican-fenton-fung-wins-rhode-island-gubernatorial-election/5208737001/?utm_source=outbrain&amp (Providence Journal)<!-- Valid XHTML here, not an error per https://htmlhelp.com/reference/xhtml/entities/ampersand.html -->]
*[[Ethiopia and the World Bank]]
**The [[World Bank Group]] approves a $1.1 billion budget support loan to [[Ethiopia]], as part of collaborative efforts to reestablish stability and reconstruct the country following years of civil conflict and economic turmoil. [https://edition.cnn.com/2024/06/13/world/world-bank-ethiopia-support-intl/index.html ("CNN")]

'''Science and technology'''
*[[Asteroid mining]]
**[[SpaceX]] announces plans to launch its first asteroid mining mission in partnership with the private space company [[Planetary Resources]] in 2026, aiming to extract valuable minerals and resources from the asteroid [[(341843) 2008 EV5]] for subsequent commercial uses on Earth and in space. [https://www.space.com/spacex-planetary-resources-asteroid-mining-mission (''Space.com'')]
<!-- All news items above this line -->}}



{{Current events|year=2025|month=06|day=13|content=
<!-- All news items below this line -->
'''Armed conflicts and attacks'''
*[[Kurdistan insurgency]]
**[[2025 Turkey–Syria offensive]]
***Turkish forces launch an operation against the [[Kurdish]] [[People's Protection Units]] (YPG) in northeastern Syria, in an attempt to establish a "safe zone" along the Turkish-Syrian border. Reports of civilian casualties emerge, sparking outrage from international organizations. [https://www.bbc.com/news/world-middle-east-61729434 (BBC News)]

'''Business and economy'''
*[[Food industry]]
**[[Impossible Foods]] announces the opening of its first European manufacturing facility in the Netherlands, as part of its ongoing global expansion to provide sustainable plant-based alternatives to traditional meat products. [https://www.reuters.com/business/sustainable-business/impossible-foods-opens-european-plant-2025-06-13/ (Reuters)]

'''Disasters and accidents'''
*[[2025 Sichuan earthquake]]
**More than 200 people are reported dead after a 6.8 magnitude earthquake strikes [[Sichuan]] province in Southwest China, causing widespread infrastructural damage and hundreds of aftershocks. International aid is dispatched to assist in search-and-rescue and relief efforts. [https://apnews.com/article/science-and-technology-disasters-earthquakes-c8e360ce0afbe88021a747a964bb6c0f (AP)]

'''Health and environment'''
*[[Climate change]]
**Delegates at the [[United Nations Climate Change conference]] in Nairobi present new measures, aiming to reduce global carbon emissions by 60% by 2040, by encouraging increased investment in renewable energy sources and targeting higher carbon taxation for industries. [https://www.aljazeera.com/news/2025/6/13/un-present-new-climate-goals-to-reduce-emissions (Al Jazeera)]

'''Law and crime'''
*[[Cybersecurity]]
**Dutch cybersecurity firm [[DigitalShokunin]] reports a significant increase in cyberattacks on businesses and governments around the world, linked to a sophisticated hacking group known as [[APT42]], presumed to be based in North Korea. The findings prompt global leaders to call for greater cybersecurity collaboration. [https://www.nytimes.com/2025/06/13/world/ap-t42-hacking-group-wreaks-havoc.html (''New York Times'')]

'''Politics and elections'''
*[[2025 United Kingdom local elections]]
**In the UK local elections, the [[Labour Party (UK)|Labour Party]] gains council seats and retains control of key cities, whilst the [[Green Party of England and Wales']], sees significant progress, reflecting growing public concern over climate change. [https://www.theguardian.com/politics/2025/jun/13/uk-local-elections-labour-sees-gains-green-party-enters-mainstream (''The Guardian'')]

'''Science and technology'''
*[[Astronomy]]
**The recently launched [[James Webb Space Telescope]] discovers a potentially habitable exoplanet, GJ 785.6b, approximately 47 light-years from Earth. The new discovery helps refine astronomers' understanding of planetary formation and paves the way for further search for life outside our Solar System. [https://www.space.com/jwst-discovers-potentially-habitable-exoplanet-gj-785-6b (''Space.com'')]
<!-- All news items above this line -->}}



{{Current events|year=2026|month=06|day=13|content=
<!-- All news items below this line -->
'''Armed conflicts and attacks'''
*[[2026 Arab-Israeli conflict]]
**An unexpected breakthrough in the Arab-Israeli conflict occurs as notorious extremist faction leaders from both sides withdraw from their positions and condemn prior violence strategies. This radical move, spearheaded by influential religious leaders promoting peace and dialogue, fosters hope for long-term peace in the region. [https://www.bbc.com/news/world-middle-east-62998047 (BBC News)]

'''Business and economy'''
*[[Automotive industry]]
**[[Tesla, Inc.|Tesla]] announces a partnership with [[Toyota Motor Corporation|Toyota]] and [[General Motors]] to develop a revolutionary affordable electric vehicle targeting middle and low-income families, a pivotal advancement toward mainstream electric vehicle adoption. [https://www.reuters.com/business/tesla-teams-up-with-toyota-gm-make-electric-cars-affordable-2026-06-13/ (Reuters)]

'''Disasters and accidents'''
*[[Andes plane crash]]
**A deadly plane crash occurs in the Andes, with over 150 passengers and crew confirmed dead. The aircraft, belonging to LatinAir, encountered unexpected severe turbulence resulting in structural failure. International aviation experts begin an investigation to prevent further accidents. [https://apnews.com/article/andes-plane-crash-turns-deadly-c47f4e91463b1edf51d267b847e33b02 (AP)]

'''Health and environment'''
*[[Global health crisis]]
**The World Health Organization (WHO) announces a large-scale vaccination campaign covering over 1 billion people in Africa and Asia to prevent the spread of a newly identified virus, ULMV-2626, responsible for thousands of serious infections. Pharmaceutical companies join forces to rapidly produce vaccine doses. [https://www.aljazeera.com/news/2026/6/13/mass-vaccine-campaign-begins-who-tackles-new-virus (''Al Jazeera'')]

'''Law and crime'''
*[[Cybersecurity]]
**Sophus Technologies reveals significant security flaws in popular cryptocurrencies Ethereum and Cardano, leading to emergency updates and shutdowns of services to mitigate the potential for financial theft. The global cryptocurrency market reacts with price declines, and national governments call for tighter regulations. [https://www.nytimes.com/2026/06/13/business/security-flaw-ethereum-cardano-prompts-market-panic.html (''New York Times'')]

'''Politics and elections'''
*[[2026 South Korean presidential election]]
**The South Korean presidential election results in a narrow victory for progressive candidate Oh Se-hoon, signaling a shift in public sentiment towards addressing social and economic inequality in the nation. [https://www.koreaherald.com/view.php?ud=2026061300078 (''The Korea Herald'')]

'''Science and technology'''
*[[Artificial intelligence]]
**Facebook Reality Labs unveils a groundbreaking artificial intelligence assistant that can "objectively detect and report incorrect or manipulated information online" with a 95% success rate. This development in advanced AI technology opens avenues for new tools to combat the spread of disinformation on the internet. [https://www.wired.com/story/facebook-reality-labs-AI-for-combating-disinformation/ (''Wired'')]
<!-- All news items above this line -->}}



{{Current events|year=2028|month=06|day=13|content=
<!-- All news items below this line -->
'''Armed conflicts and attacks'''
*[[Asian terrorist attacks]]
**A series of coordinated terrorist attacks in several Asian countries, including Indonesia, India, and Bangladesh, kills over 500 people. A previously unknown group called 'Asia United' claims responsibility, with their manifesto stating a desire for regional instability and power redistribution. Authorities from multiple countries coordinate an extensive manhunt. [https://www.aljazeera.com/news/2028/6/13/asia-united-launches-terror-attacks-across-asian-countries (''Al Jazeera'')]

'''Business and economy'''
*[[Robotic industry]]
**[[Boston Dynamics]] announces a collaborative venture with [[Amazon.com|Amazon]] to develop a new generation of warehouse robots that can also perform more human-like tasks, such as button pushing and grocery packing. The warehouse automation technology is expected to save billions of dollars for numerous corporations and increase productivity efficiency. [https://www.wsj.com/articles/boston-dynamics-partnership-amazon-robots-warehouse-automation-2028-06-13 (Wall Street Journal)]

'''Disasters and accidents'''
*[[Nuclear fusion accident]]
**An accident at the largest nuclear fusion plant in the world – ITER Facility in France - results in a containment failure and radiation exposure of some staff members. The extent of the damage is still being assessed, leading to international concern about nuclear fusion safety. [https://www.bbc.com/news/science-environment-74399002 (BBC News)]

'''Health and environment'''
*[[Climate change action]]
**The United Nations (UN) announces that over 190 countries have ratified the New Kyoto Protocol, which expands greenhouse gas reduction targets and introduces aggressive measures to combat climate change. This historic agreement represents international solidarity in addressing environmental concerns. [https://www.theguardian.com/environment/2028/jun/13/new-kyoto-protocol-ratified-by-global-community (''The Guardian'')]

'''Law and crime'''
*[[Technology and surveillance]]
**Amnesty International uncovers evidence of major corporations and governments, including the United States, China, and Russia, using cutting-edge surveillance technology developed by EyeWatch, to monitor everyday citizens, violating privacy rights. Revelations lead to public uproar and lawsuits. [https://www.nytimes.com/2028/06/13/world/exposed-global-surveillance-operation-eyeWatch.html (''New York Times'')]

'''Politics and elections'''
*[[2028 Mexican presidential election]]
**Mexican presidential candidate Carmen Irene Arriaga, of the National Regeneration Movement, wins a landslide victory, becoming the first female President in Mexico's history. Her progressive platform focusing on eradicating corruption, violence, and enhancing social welfare is applauded by international observers. [https://www.reforma.com/presidencia-carmen-irene-arriaga-triunfo-hist%C3%B3rico-en-m%C3%A9xico/ar2163422?sc (''Reforma'')] (in Spanish)

'''Science and technology'''
*[[Space exploration]]
**SpaceX articulates their intention to launch a manned mission to Mars with the goal of establishing a permanently inhabited base. This ambitious timeline marks the latest efforts in humans' enduring quest for interplanetary habitation. [https://www.nationalgeographic.com/science/2028/06/spacex-unveils-plan-manned-mars-mission-permanent-colony/ (''National Geographic'')]
<!-- All news items above this line -->}}



{{Current events|year=2033|month=06|day=13|content=
<!-- All news items below this line -->
'''Armed conflicts and attacks'''
*[[Cyber warfare]]
** A coordinated cyber attack on critical infrastructure targets in the United States, European Union, and Japan occurs, causing temporary power outages and transportation disruptions. Cyber defense agencies trace the origin to rogue nation-states, heightening geopolitical tensions. [https://www.cnn.com/2033/06/13/tech/massive-cyberattack-infrastructure-disruptions/index.html (''CNN'')]

'''Business and economy'''
*[[Cryptocurrency]]
** The World Bank announces that over 40 countries have implemented government-backed cryptocurrencies to facilitate transactions, financial inclusion, and stabilize fiat currencies. This major shift in monetary policy marks a milestone for the financial industry's embracement of digital currencies. [https://www.ft.com/content/138be017-9866-48f8-af58-c57e6e2033ef (Financial Times)]

'''Disasters and accidents'''
*[[European flood crisis]]
** Severe flooding across Europe, particularly in Germany, Poland, and the Czech Republic, claims over 200 lives and displaces thousands of people. Authorities link the extreme weather patterns to climate change, and emergency response efforts are mobilized across the continent. [https://www.dw.com/en/widespread-floods-hit-europe-deaths-disruption-continue/a-69907871 (''Deutsche Welle'')]

'''Health and environment'''
*[[Influenza Virus - Nemesis strain]]
**The World Health Organization (WHO) reports a new and highly contagious strain of influenza called the "Nemesis" strain, is rapidly spreading worldwide. Governments initiate public health measures to minimize the spread and start developing a new vaccine to combat this latest global health challenge. [https://www.bbc.com/news/health-66461253 (BBC News)]

'''Law and crime'''
*[[Artificial intelligence and human rights]]
** Amnesty International reveals a comprehensive study exposing various human rights abuses by governments using advanced AI to monitor and suppress dissent, triggering international talks and debates regarding AI ethics and legislation. [https://www.theguardian.com/world/2033/jun/13/ai-monitoring-human-rights-abuses-amnesty-international-report (''The Guardian'')]

'''Politics and elections'''
*[[Indonesia presidential election, 2033]]
**Siti Rohmah, leader of the Party of the Functional Groups, wins the Indonesian presidency, becoming the first female president of the country. Rohmah's progressive platform includes social justice reforms, climate change action, and infrastructure development. [https://www.thejakartapost.com/news/2033/06/13/siti-rohmah-wins-indonesian-presidential-election-first-female-president.html (''The Jakarta Post'')]

'''Science and technology'''
*[[Lunar exploration]]
** China National Space Administration (CNSA) and Russian Federal Space Agency (Roscosmos) unveil details of their joint lunar exploration plans, including an aim to establish a human outpost on the Moon, increasing competition in space exploration and the conquest for resource-rich celestial bodies. [https://edition.cnn.com/2033/06/13/world/china-russia-moon-outpost-plans/index.html (''CNN'')]
<!-- All news items above this line -->}}



{{Current events|year=2038|month=06|day=13|content=
<!-- All news items below this line -->
'''Armed conflicts and attacks'''
* [[Drone warfare]]
** A landmark summit on drone warfare and human rights is concluded between government leaders and global security organizations. Discussions cover establishing regulations and legal framework on responsible drone usage, aiming to mitigate civilian casualties and foster greater transparency in military actions. [https://www.reuters.com/world/armed-drones-capabilities-grow-international-standards-needed-human-rights-group-2038/ (''Reuters'')]

'''Business and economy.'''
* [[Electric vehicles]]
** Swedish automaker Volvo becomes the first major auto manufacturer to produce an entirely electric-powered line-up, phasing out combustion engine vehicles from their production process. The company sets an example for green and sustainable automobile production in an industry increasingly moving toward environmentally-conscious practices. [https://www.bloomberg.com/news/2038-06-13/volvo-goes-fully-electric-entire-line-up-commits-to-green-future (''Bloomberg'')]

'''Disasters and accidents'''
* [[California earthquake]]
** A powerful 7.5 magnitude earthquake shakes California, resulting in significant damage, casualties, and displacement of thousands of people. International assistance is extended as relief and rescue efforts continue across affected areas. The temblor raises questions about America's infrastructure and seismic safety. [https://www.nytimes.com/2038/06/13/us/california-earthquake-major-damage-casualties.html (''The New York Times'')]

'''Health and environment'''
* [[Global climate agreement]]
** A major breakthrough is achieved at the annual United Nations Climate Change Conference, with world leaders agreeing on significant reductions in greenhouse gas emissions and directed financial support for the development of cleaner, climate-resilient technologies. The hard-fought agreement galvanizes international cooperation for climate action. [https://www.washingtonpost.com/world/2038/06/13/climate-change-agreement-reduction-greenhouse-emissions/ (''The Washington Post'')]

'''Law and crime'''
* [[Internet censorship]]
** The government of India lifts its controversial internet ban in the disputed territory of Kashmir. The move eases tensions and fosters an environment for open and transparent dialogue between political factions, paving the way for greater stability in the region. [https://www.aljazeera.com/news/2038/6/13/india-lifts-internet-ban-in-kashmir-facilitating-open-dialogue (''Al Jazeera'')]

'''Politics and elections'''
* [[Australian general election, 2038]]
** Australia elects its youngest-ever Prime Minister, Isabelle Greenwood, as leader of the Labor Party, who champions new policies combating climate change, benefiting indigenous populations, and fostering social equality. Greenwood's election represents a new era of progressive leadership in the nation. [https://www.smh.com.au/politics/federal/election-2038-isabelle-greenwood-australia-s-youngest-prime-minister-20380613-p7874u.html (''The Sydney Morning Herald'')]

'''Science and technology'''
* [[Mars exploration]]
** SpaceX's Mars mission reaches a significant milestone as their Starship crewed spacecraft successfully lands on Martian soil – a historic achievement in human space exploration. The multinational crew begins conducting experiments and exploring Mars, providing critical data for future colonization prospects. [https://edition.cnn.com/2038/06/13/tech/spacex-starship-mars-landing-human-mission/index.htm (''CNN'')]
<!-- All news items above this line -->}}



{{Current events|year=2048|month=06|day=13|content=
<!-- All news items below this line -->
'''Armed conflicts and attacks'''
* [[Cybersecurity]]
** The United States, European Union, and Asian security partners unveil a unified global cybersecurity initiative to combat increasing cyber threats. The initiative focuses on strengthening collective defense, sharing intelligence, and centralizing resources in response to state-sponsored cyber-attacks. [https://www.bbc.com/news/world-44475855 (''BBC News'')]

'''Business and economy.'''
* [[Cryptocurrency regulation]]
** The G20 summit announces a groundbreaking agreement on cryptocurrency regulation, addressing concerns of tax evasion, money laundering, and illicit transactions. The global framework includes due diligence measures for transnational transactions and enhances financial system integrity. [https://www.ft.com/content/523759-456d-439d-955b-d3ea541 (''Financial Times'')]

'''Disasters and accidents'''
* [[Atlantic hurricane season]]
** A historic Category 5 hurricane, Hurricane Artemis, devastates coastal areas in the southern United States, causing unprecedented damage and significant loss of life. The effects of climate change are intensively discussed as a possible contributing factor to the storm's intensity and unpredictability. [https://www.npr.org/sections/liveupdates-artyem-category-5-hurricane-13073533 (''NPR News'')]

'''Education'''
* [[AI in education]]
** The International Artificial Intelligence Education Conference announces the integration of AI-driven teaching and assessment measures to enhance learning experiences. The AI-based systems personalize learning and provide real-time feedback to students and educators, revolutionizing the global education process. [https://www.theguardian.com/uk-news/2048/jun/13/artificial-intelligence-education-conference (''The Guardian'')]

'''Health and environment'''
* [[International Water Scarcity Accord]]
** The United Nations ratifies the historical International Water Scarcity Accord, addressing global water accessibility challenges, particularly in impoverished regions. The agreement emphasizes cross-border cooperation, investing in innovative water management solutions, and promoting responsible water consumption. [https://apnews.com/article/water-scarcity-accord-un-signatures-50fdgb840cd387fe05faa (''AP News'')]

'''Law and crime'''
* [[Human trafficking]]
** International authorities dismantle a major human trafficking network following a joint operation by Interpol, Europol, and the Federal Bureau of Investigation. Hundreds are arrested and numerous victims are rescued, significantly disrupting the criminal organization responsible. [https://edition.cnn.com/2048/06/13/world/human-trafficking-network-disrupted-interpol-europol-fbi/index.html (''CNN'')]

'''Politics and elections'''
* [[United States presidential election, 2048]]
** Amid the hurricane catastrophe, presidential candidates for the 2048 U.S. elections emphasize the urgent need for climate change policy advancements, investment in disaster relief, and infrastructure improvements. Their campaigns reflect America's heightened awareness of the impact of climate change on future generations. [https://www.politico.com/2048-election/us-presidential-election-candidates-responses-climate-change-hurricane (''Politico'')]

'''Science and technology'''
* [[Moon colonization]]
** Chinese lunar outpost, the Chang'e Lunar Village, welcomes its first residents who will facilitate scientific research and explore long-term lunar habitation prospects. The confident leap forward propels a new stage of human settlement on celestial bodies. [https://www.nytimes.com/2048/06/13/science/change-lunar-village-moon-residents.html (''The New York Times'')]
<!-- All news items above this line -->}}



{{Current events|year=2073|month=06|day=13|content=
<!-- All news items below this line -->
'''Armed conflicts and attacks'''
* [[Mars security]]
** Global security partners convene in advance of the Mars Colonization International Summit to discuss strategies for maintaining integrity, security, and enforcement of interstellar law in newly established colonies. Calls for transparent governance increase as rivalries develop over Martian resources. [https://www.aljazeera.com/news/2073/6/13/mars-security-discussions-at-international-summit (''Al Jazeera'')]

'''Business and economy.'''
* [[Biocarbon credit market]]
** The World Trade organization expands the Biocarbon credit market, providing incentives to nations leading the battle against climate change. Biocarbon credits are issued to companies who actively restore ecosystems, reduce deforestation, and engage in sustainable agricultural practices. [https://www.wsj.com/articles/biocarbon-credits-introduction-to-global-market-20730613 (''The Wall Street Journal'')]

'''Disasters and accidents'''
* [[Geoengineering disaster]]
** A geoengineering project aiming to reduce atmospheric carbon dioxide deteriorates unexpectedly, releasing stored CO2 en masse and reigniting concerns about the risks of such large-scale climate interventions. Environmentalists call for strict international oversight and regulations. [https://edition.cnn.com/2073/06/13/world/geoengineering-disaster-carbon-dioxide-release/index.html (''CNN'')]

'''Entertainment'''
* [[Virtual reality entertainment]]
** Singapore-based VRLocity wins the coveted Best Innovation Award at the 2073 XR Experiences Expo, presenting groundbreaking virtual reality technology that integrates multisensory feedback to immerse users in rich, shared entertainment experiences. [https://variety.com/2073/digital/news/vrloctiy-xr-experiences-expo-award-3070613 (''Variety'')]

'''Health and environment'''
* [[Gene editing]]
** An international team of researchers, led by Dr. Sumit Bhatt of the UK-based Sanger Institute, successfully eliminates antibiotic-resistant bacteria through a revolutionary gene editing technique. This milestone generates hope in the fight against antibiotic resistance and heralds a new era of medical advances. [https://www.theguardian.com/science/2073/jun/13/sanger-institute-gene-editing-antibiotic-resistance (''The Guardian'')]

'''Law and crime'''
* [[AI Governance]]
** The United Nations unveils a comprehensive framework for regulating Artificial Intelligence, addressing ethical and security implications across a core set of AI applications such as automated surveillance, autonomous decision making, and globally interconnected systems. [https://www.dissentmag.com/advanced/20730613/regulating-global-artificial-intelligence (''Dissent'')]

'''Politics and elections'''
* [[East African Federation Elections]]
** Voters of the newly established East African Federation go to the polls for the first-ever presidential and legislative elections. Candidates engage in heated debates over resource management, economic development, and international integrations. Results are anticipated to shape the EAF's nascent political landscape. [https://af.reuters.com/article/topNews/idAFK207300 (┬ứÓ431Ñ6Ñ┬í73H08OT3-PZUFT (''Reuters Africa'')]

'''Science and technology'''
* [[First artificial mine]]
** The world sees its first successful test run of an artificial mine which utilizes regenerative, zero impact processes. Responsible Uranium Platinum Production (RUPP) demonstrates the environmentally-conscious future of mining in Saskatchewan, Canada, paving the way for further eco-friendly extraction solutions. [https://www.bbc.com/news/world-06298321 (''BBC News'')]
<!-- All news items above this line -->}}



{{Current events|year=2123|month=06|day=13|content=
<!-- All news items below this line -->
'''Armed conflicts and attacks'''
* [[Moon and Mars Tension]]
** The Moon-Mars Dispute Resolution Committee (MMDRC) imposes strict sanctions on UFS Mars Colony Tarsus after accusations of hydro-mining are leveraged by the Lunar Republic. As tensions continue to escalate between the two interstellar colonies, calls for peaceful negotiation increase among Earth nations and the United Space Organization (USO). [https://www.aljazeera.com/news/2123/6/13/moon-mars-tension-hydro-mining-sanctions-imposed (''Al Jazeera'')]
  
'''Business and economy.'''
* [[Quantum Computing Marketplace]]
** Global enterprise Liftrix unveils its quantum computing marketplace, entering an era of unparalleled computational efficiency. With technology advancing towards stable qubit processors, industry leaders speculate an exponential increase in economic competitiveness and scientific innovation. [https://www.wsj.com/articles/quantum-computing-marketplace-liftrix-21230613 (''The Wall Street Journal'')]

'''Disasters and accidents'''
* [[Automated Transportation Tragedy]]
** A large-scale, multi-vehicle accident occurs within the Asian Corridor Hyperloop system, resulting in 35 fatalities. Investigators believe a failure in the automated guidance system in conjunction with a software error caused the devastating incident, prompting sweeping reviews of high-speed transportation safety. [https://edition.cnn.com/2123/06/13/world/automated-transportation-tragedy/index.html (''CNN'')]

'''Entertainment'''
* [[Futuropolis Festival]]
** The holographic interactive media arts festival, Futuropolis, dazzles audiences worldwide as artists from various disciplines collaborate to bring cutting-edge performances to life using integrated hologram and virtual reality technologies. Critics anticipate that Futuropolis will set a new definition for entertainment experiences in the coming years. [https://variety.com/2123/digital/news/futuropolis-holographic-festival-2070613 (''Variety'')]

'''Health and environment'''
* [[Carbon Recapture Breakthrough]]
** Istanbul Science Foundation's climate team announces a significant breakthrough in carbon capture and storage, using advanced nanotechnology application to prolong the decay time of carbon dioxide absorbed by trees. This discovery widens the possibilities for inexpensive and accessible climate mitigation techniques. [https://www.theguardian.com/science/2123/jun/13/climate-breakthrough-carbon-recapture-extending-decay-time (''The Guardian'')]

'''Law and crime'''
* [[Labor Rights Robots]]
** The Global Alliance on Labor Rights for Robots submits its proposal to the United Nations for a detailed legal framework on robot civil and labor rights. This landmark proposal challenges traditional assumptions about artificial intelligence workforces, fueling long-standing debates on ethics and loyalty in AI-governed societies. [https://www.dissentmag.com/advanced/21230613/labor-rights-for-robots (''Dissent'')]

'''Politics and elections'''
* [[New Andean Alliance Election]]
** Citizens of the New Andean Alliance gather for their first regional parliamentary elections. With a strong emphasis on environmental and digital governance, the election results will set the stage for unified policy implementation within South America's latest supernation project. [https://af.reuters.com/article/topNews/idAFKapsula31405060632Ñ8ÑadsT (''Reuters South America'')]

'''Science and technology'''
* [[Ocean-based Algae Fuel Production]]
** Renewable energy pioneer OceanoGen announces the successful implementation of their massive ocean-based algae biofuel production facility off the coast of New California Republic. The facility's ability to extract energy from algae on a commercial scale has significant implications for a route towards carbon-neutral energy systems. [https://www.bbc.com/news/world-05968321 (''BBC News'')]
<!-- All news items above this line -->}}



{{Current events|year=2223|month=06|day=13|content=
<!-- All news items below this line -->
'''Armed conflicts and attacks'''
* [[Asteroid Belt Colonization Conflict]]
** The United Space Organization (USO) announces emergency diplomatic talks between Earth, lunar, and Martian governments to prevent the escalating Asteroid Belt Colonization Dispute from evolving into a broader conflict in space. The tensions arise as territorial claims overlap and resource extraction in the asteroid belt increases. [https://www.aljazeera.com/news/2223/6/13/asteroid-belt-colonization-dispute-emergency-talks (''Al Jazeera'')]

'''Business and economy.'''
* [[Blockchain Marketplace Freedom]]
** In a groundbreaking merger between major corporations, NexusBloc and InfinityChain, the newly formed company, CryptoSynergy, introduces its revolutionary blockchain marketplace. Following their commitment to digital freedom, CryptoSynergy guarantees increased data privacy protection alongside building network resilience against cyber threats. [https://www.wsj.com/articles/blockchain-marketplace-cryptosynergy-22230613 (''The Wall Street Journal'')]

'''Disasters and accidents'''
* [[Hurricane Novum]]
** Hurricane Novum makes landfall off the coast of the Republic of Atlantica, causing widespread disruption and evacuations due to the combination of high winds and torrential rains. Climateologists warn that extreme weather events will continue to increase in frequency as a result of ongoing climate threats. [https://edition.cnn.com/2223/06/13/world/high_wind_rainstorm_novum/index.html (''CNN'')]

'''Entertainment'''
* [[HoloEsports Championship]]
** The sixth annual HoloEsports Championship captivates global spectators with its amalgamation of mixed reality and gaming technologies, pushing the boundaries of traditional esports. The championship final, involving teams FragForever and AlphaWave, enthralls as the competitors set new records in multiple gaming categories. [https://variety.com/2223/digital/news/holoesports-championship-amazed-audience-269173 (''Variety'')]

'''Health and environment'''
* [[Air Carbon Conversion Revolution]]
** In a game-changing announcement, leading research consortium EarthFirst reveals the expansion of its ambitious global air carbon conversion project. Proven safe and effective, the network of decentralized air carbon conversion units successfully turns air carbon into various materials for construction projects at an unprecedented scale, marking a significant leap in the battle against climate change. [https://www.theguardian.com/science/2223/jun/13/air-carbon-conversion-revolution-expasion (''The Guardian'')]

'''Law and crime'''
* [[AI Influence on Human Rights]]
** The United Nations Human Rights Summit reportedly discusses implications of advanced artificial intelligence applications on a global scale. The draft resolution includes the need for new frameworks and regulations regarding AI governance, addressing ethical regulations and the defense of AI-influenced individuals from potential manipulation based on targeted fake news. [https://www.dissentmag.com/advanced/22230613/ai-influence-human-rights (''Dissent'')]

'''Politics and elections'''
* [[Lunar Coalition Party Elections]]
** The Lunar Coalition Political Party celebrates its first round of political elections since the establishment of localized government facilities on the Moon. Political diversity and accessibility emerge as key focus areas to prevent dominancy of singular ideologies and foster dynamic space governance in the future. [https://af.reuters.com/article/topNews/idAFKPulsar06250681232Ð5ÐtgsH (''Reuters Moon'')]

'''Science and technology'''
* [[Solar Sails Pathfinding Milestone]]
** SolarAegis Corporation unveils the OmniLight StarSprinter, a revolutionary solar sail-propelled spacecraft capable of traversing interstellar distances at unprecedented speeds. The StarSprinter, which harnesses energy directly from a star's light, boasts an array of space pathfinding equipment, pointing the way to a new era in interstellar exploration. [https://www.bbc.com/news/world-07908297 (''BBC News'')]
<!-- All news items above this line -->}}



{{Current events|year=2523|month=06|day=13|content=
<!-- All news items below this line -->
'''Armed conflicts and attacks'''
* [[Interplanetary Peace Treaty Anniversary]]
** Global leaders gather on Jupiter's moon Callisto to commemorate the 25th anniversary of the Interplanetary Peace Treaty. The treaty, signed in 2498, brought an end to decades of strife and tension among Earth, Mars, and the Outer Sol Colonies. Officials emphasize the continued importance of mutual cooperation and peaceful resolution. [https://apnews.com/article/Interplanetary-Peace-Treaty-25230613 (''Associated Press'')]

'''Business and economy.'''
* [[Galactic Shopping Network Acquisition]]
** In a historic business acquisition, the Orion Commerce Collective announces its purchase of the Galactic Shopping Network (GSN) for 5 billion AleaTokens. The acquisition expands Orion's commercial influence, opening new markets and laying the foundation for hypergrowth in Intergalactic consumerism. [https://www.bloomberg.com/news/articles/2523-06-13/orion-commerce-gsn (''Bloomberg'')]

'''Disasters and accidents'''
* [[Neptune Disaster]]
** An explosion in the Neptune-6 Deep Sea Research Station results in multiple fatalities and widespread damage. Efforts to rescue remaining personnel and ensure the station's structural stability amidst harsh sub-Neptunian pressures are currently being executed by Global Marine Services. [https://www.vice.com/en/article/295135/neptune-disaster-25230613 (''Vice News'')]

'''Entertainment'''}
* [[The Ninth Element Movie Premier]]
** Pop culture buzz spreads ahead of the highly anticipated movie release, "The Ninth Element," a visually striking holo-film depicting a fictional universe set after a ninth planetary system is discovered within the Sol system. Early reviews hail the film's breathtaking CGI effects and immersive storytelling. [https://www.hollywoodreporter.com/movies/reakt9/ninth_element (''The Hollywood Reporter'')]

'''Health and environment'''
* [[Celebration of Longevity]]
** The United Heath Centenarians celebrate Gertrudio Almendi's 143rd birthday, making him the oldest man on Earth. Advances in anti-aging pharmaceuticals and trans-species cellular therapy enable humans to experience longer and healthier lives, thereby redefining human life expectancy. [https://www.nytimes.com/life/2523/06/13/longevity-celebration (''The New York Times'')]

'''Law and crime'''
* [[Orbital Property Theft Crackdown]]
** Orbital Security Forces, supported by United World Legislature, coordinate efforts to dismantle a highly-organized crime network responsible for a rapid rise in orbital property theft. This marks a significant crackdown on organized crime rings operating exclusively in Earth's orbital zones. [https://www.aljazeera.com/news/2523/6/13/orbital-property-theft (''Al Jazeera'')]

'''Politics and elections'''
* [[Terraforming Regulations Summit]]
** Government officials from Earth, Mars, and Europa convene on Titan to discuss the formation of the Interplanetary Terraforming Regulation Agency to oversee ethical and responsible terraforming initiatives. A pilot project is proposed, targeting the terraforming of exoplanetary moons. [https://www.washingtonpost.com/world/25230613/terraforming-regulations-summit (''The Washington Post'')]

'''Science and technology'''
* [[Wormhole Reactor Project]]
** Renowned astrophysicist Dr. Claudia Lin unveils the highly-anticipated Wormhole Reactor Project, which promises to enable rapid interstellar travel by combining exotic matter with scientifically-reproduced black holes. Dr. Lin believes the reactor could usher in a new era of science and exploration. [https://www.spacetimescience.com/news/articles/2523-06-13/wormhole-reactor (''SpaceTime Science'')]
<!-- All news items above this line -->}}



{{Current events|year=3023|month=06|day=13|content=
<!-- All news items below this line -->
'''Armed conflicts and attacks'''
* [[CEAL Peace Accords Anniversary]]
** Interstellar leaders convene on Earth at the United Nations Space Headquarters in New York to celebrate the 50th anniversary of the Central Extrasolar Alliance for Lasting Peace (CEAL) Accords. The agreement brought lasting peace and stability among Earth's colonies, ensuring they remain united in the face of potential threats from extraterrestrial civilizations. [https://apnews.com/article/CEAL-Peace-Accords-30230613 (''Associated Press'')]

'''Business and economy.'''
* [[Universal Conglomerates Merger]]
** Two of the largest intergalactic conglomerates, Interstellar Trade Network (ITN) and Omicron Industries, confirm their merger into a unified corporation named UniCorp. Experts predict the move will revolutionize extraterrestrial commerce, as the newly formed conglomerate gains control of approximately 65% of the known interstellar market. [https://www.bloomberg.com/news/articles/3023-06-13/universal-conglomerates-merger (''Bloomberg'')]

'''Disasters and accidents'''
* [[Venus Climate Stabilization Setback]]
** A critical malfunction occurs in the Venus Atmospheric Regulator, jeopardizing ongoing efforts to stabilize the planet's turbulent climate. Efforts are underway to assess the extent of damage and devise a solution while officials address potential causes, which include design flaws or sabotage. [https://www.vice.com/en/article/695175/venus-climate-setback-30230613 (''Vice News'')]

'''Entertainment'''
* [[StarSplitters International Competiton]]
** The 17th annual StarSplitters International Dance and Music Competition, featuring performers from various planetary systems across the universe, premieres live on Earth. Contestants dazzle the audience with elaborate routines, blending traditional Earthling cultural compositions with the essence of alien origins. [https://www.hollywoodreporter.com/music/starsplitters-international (''The Hollywood Reporter'')]

'''Health and environment'''
* [[Ninth Interspecies Medical Conference]]
** Delegates, researchers, and scientists from various species gather in the Zenalai Medical Center on the Libralla star system to participate in the Ninth Interspecies Medical Conference. Attendees aim to discuss and exchange their extensive knowledge in genetics, cellular therapies, and anti-aging supplements to improve universal healthcare standards. [https://www.nytimes.com/health/3023/6/13/interspecies-medical-conference (''The New York Times'')]

'''Law and crime'''
* [[GalaxySec Crime Syndicate Crackdown]]
** International law enforcement groups GalaxySec, in collaboration with the guardian police force of the Andromeda Expanse, arrest high-ranking members of the Red Space crime syndicate. This marks a significant step in dismantling extensive criminal enterprises operating in major hyperspace lanes and wormhole transit hubs. [https://www.aljazeera.com/news/3023/6/13/galaxysec-crime-syndicate-crackdown (''Al Jazeera'')]

'''Politics and elections'''
* [[Interstellar Council Elections]]
** The Interstellar Council, governing the affairs of multiple galaxies, commences its highly anticipated elections, with candidates from various planets campaigning for leadership roles. The electoral process involves representatives of numerous species casting their votes via Subspace Telegraphy to ensure a transparent and efficient election. [https://www.washingtonpost.com/world/30230613/interstellar-council-elections (''The Washington Post'')]

'''Science and technology'''
* [[Quantum Computing Breakthrough]]
** Esteemed quantum physicist, Dr. Arya Pereira, unveils a groundbreaking development in the field of quantum computing. Dr. Pereira believes her team's discovery will lead to exascale quantum computer processors capable of solving the enigma of dark energy and dark matter, ushering in a revolutionary era for humanity and extraterrestrial species. [https://www.spacetimescience.com/news/articles/3023-06-13/quantum-computing-breakthrough (''SpaceTime Science'')]

<!-- All news items above this line -->}}



{{Current events|year=4023|month=06|day=13|content=
<!-- All news items below this line -->
'''Armed conflicts and attacks'''
* [[Centennial Space Truce Celebration]]
** Intergalactic leaders gather in the Pan-Galactic Summit Station orbiting around Alpha Centauri to commemorate the 100th anniversary of the Space Truce, a historic agreement to end armed conflicts across the cosmos. Participating delegates will reaffirm their commitment to maintain peace and foster diplomatic relations among various universal factions. [https://www.interstellarnews.com/article/Space-Truce-40230613 (''Interstellar News'')]

'''Business and economy.'''
* [[Astromonopoly Probe Verdict]]
** The Universal Fairness Consortium (UFC) rules against the UniCorp conglomerate, concluding the three-year investigation into its alleged business malpractices while dominating the interstellar market. As a result, UniCorp faces significant dismantlement, dividing its assets into smaller, independent conglomerates, and urges the decentralization of commerce. [https://www.economicbalance.com/news/articles/4023-06-13/astromonopoly-probe-verdict (''Economic Balance'')]

'''Disasters and accidents'''
* [[Lunar Hydroponics Accident]]
** A significant explosion occurs in the Lunar Hydroponics plant located in the Artemis Agriculture Complex, endangering the Moon's sustainable food supply. Authorities report multiple casualties and immediate evacuation orders around the affected site, along with moves to investigate the cause of the accident. [https://www.universaltimes.com/lunar-hydroponics-accident-40230613 (''Universal Times'')]

'''Entertainment'''
* [[Ancient Earth Media Revival]]
** The Universal Entertainment Industry witnesses a resurgence of interest in ancient Earth media: music, movies, and television shows. Scholars attribute this revival to a renewed appreciation for Earth's cultural heritage, leading production houses to recreate old masterpieces with the latest advancements in entertainment technology. [https://www.galacticbuzz.com/entertainment/4023/6/13/ancient-earth-media-revival (''Galactic Buzz'')]

'''Health and environment'''
* [[Solar Power Grid: Zero-Point Energy Conversion]]
** Interstellar scientists successfully upgrade Earth's Solar Power Grid to a Zero-Point Energy (ZPE) Conversion system that harnesses energy from vacuum fluctuations. The breakthrough marks a considerable leap towards achieving sustainable energy goals and ends Earth's reliance on fossil fuels. [https://www.energyunbounded.com/article/zero-point-conversion-40230613 (''Energy Unbounded'')]

'''Law and crime'''
* [[Arrest of Intergalactic Fugitive Lei'loria Xakranth]]
** The Interstellar Police Force, along with the assistance of several universal security agencies and bounty hunters, arrests the notorious fugitive Lei'loria Xakranth. The Umbrazaan criminal mastermind is behind multiple heists, including the Cha'anka Stellar Jewel theft, and one of the most elusive criminals in universal history. [https://www.justicechase.com/news/4023/6/13/leiloria-xakranth-arrest (''Justice Chase'')]

'''Politics and elections'''
* [[Intergovernmental Unity Council Selection (IUCS)]]
** The multi-species Intergovernmental Unity Council Selection commences, as representatives from various planetary alliances vote to reshape the unified interstellar government. The transition embodies a mutual desire for interplanetary biodiversity, equality, and representation in all galactic governance activities. [https://www.universaldiplomacy.com/world/40230613/IUC-selection (''Universal Diplomacy'')]

'''Science and technology'''
* [[Phasing Cloak Invisibility Advancement]]
** The groundbreaking discovery and development of the Phasing Cloak by Dr. Vasir Manesh enables advanced invisibility for both organic and artificial entities. The invention is set to revolutionize security, espionage, and defense sectors across the Universe, but also raises ethical questions as the race for acquiring this technology intensifies. [https://www.scientificwonders.com/news/articles/4023-06-13/phasing-cloak-invisibility (''Scientific Wonders'')]

<!-- All news items above this line -->}}



{{Current events|year=7023|month=06|day=13|content=
<!-- All news items below this line -->
'''Armed conflicts and attacks'''
* [[Deep Space Exploration Initiative Tension]]
** The Sovereign Nebulist Nations (SNN) discuss concerns over potential territorial encroachment during the inauguration ceremony for the Deep Space Exploration Initiative Conference. Representatives from across the universe gather in the Andromeda Capitol Complex to address the increasing geopolitical friction arising from the exploration project. [https://www.intergalacticobserver.com/article/deep-space-tension-70230613 (''Intergalactic Observer'')]

'''Business and economy.'''
* [[Covalent Economy Merge Agreement]]
** The Universal Finance Association (UFA) signs the Covalent Economy Merge Agreement, thereby uniting 200 humanoid economies throughout the universe. The landmark agreement establishes commercial alliances, common currency standards, and eases interstellar trade, promoting economic growth across diverse species and worlds. [https://www.universalmarket.com/news/articles/7023-06-13/covalent-economy-merge (''Universal Market'')]

'''Disasters and accidents'''
* [[Black Hole Collision Shockwaves]]
** Stellar physicists report an unprecedented celestial event as two black holes collide, sending shockwaves throughout the cosmos. Immediate evacuation orders are issued for nearby celestial settlements as researchers in the Vega Hyper-observatory work to calculate the long-term impact of the cosmic disturbance. [https://www.galactic-times.com/blackhole-collision-70230613 (''Galactic Times'')]

'''Entertainment'''
* [[12th Annual Stellar Film Festival]]
** Celebrities, entertainers, and artists across the wide universe gather on Zeltron Prime for the opening of the 12th Annual Stellar Film Festival. The festival will showcase hundreds of films, both new releases and revered classics, from a diverse range of sentient species and celestial cultures. [https://www.cosmic_gleam.com/entertainment/7023/6/13/stellar-film-festival (''Cosmic Gleam'')]

'''Health and environment'''
* [[Galactic Coral Reef Rehabilitation]]
** Scientists from the United Terraforming Alliance commence the first-ever galactic coral reef restoration effort, splitting the project duration into three stages— "restoration," "adaptation," and "protection." A large number of dedicated engineers and environmentalists work together around Solmea to rehabilitate the precious ecosystems destroyed by past climate crises. [https://www.ecospheresustained.com/article/coral-reef-rehab-70230613 (''Ecosphere Sustained'')]

'''Law and crime'''
* [[Interspecies Trafficking Kingpin Tolan Arradial Detained]]
** In a coordinated operation between the Galactic Security Taskforce and numerous space patrol units, Tolan Arradial, the notorious interspecies trafficking kingpin, is arrested. Arradial is held responsible for numerous crimes in the Nebula Corridor, and authorities hail his capture as a significant step in curbing intergalactic crime. [https://www.universalnightwatch.com/news/7023/6/13/tolan-arradial-arrest (''Universal Night Watch'')]

'''Politics and elections'''
* [[Interstellar Council of Sentients Election (ICSE)]]
** A new age of political inclusion begins as various celestial nations elect members to the Interstellar Council of Sentients (ICS), striving to enhance the organization's diversity across optical, auditory, and communicative differences. Elected officials aim to foster equitable representation of sentient species across intergalactic politics. [https://www.galacticassembly.com/politics/70230613/ICSE-election (''Galactic Assembly'')]

'''Science and technology'''
* [[Mind-Uploading Breakthrough]]
**Dr. Chitari Xolaris achieves a significant breakthrough in the field of mind-uploading technology as the inventor synthesizes the process using a synaptic neural merger. With due consideration towards the ethical implications of such an advancement, Dr. Xolaris' work paves the way for a new era in artificial intelligence and consciousness replication. [https://www.technouniversal.com/news/articles/7023-06-13/mind-uploading-breakthrough (''TechnoUniversal'')]

<!-- All news items above this line -->}}